Happy New Year Ventura River Watershed Council,
January 5 Council Meeting
The next meeting of the Watershed Council will be Thursday, January 5th from 11am to 1:30pm, at the Bell Arts Factory. Please feel free to bring your lunch to the meeting. We will get a special presentation on the progress of giant reed removal and restoration efforts in the watershed, an update on the septic special study, and much more.
We will also get an update from the Leadership Executive Committee meeting and review proposed changes to our Charter. You can review our current Charter on our website here and view the proposed changes to the Charter here.
Here is the agenda.
First Meeting of the Upper Ventura River GSA January 5, 2017
The first Upper Ventura River Groundwater Sustainability Agency (GSA) meeting will be held this Thursday at noon at the Casitas Municipal Water District, Board Room, 1055 Ventura Avenue, Oak View, California, 93022.
You can find the meeting agenda here.
For additional information about the formation process of the Groundwater Sustainability Agency and to subscribe to the GSA mailing list visit: http://www.uvrgroundwater.org/
Comment Period Open: Ojai Basin Analysis of Basin Conditions
The Ojai Basin Groundwater Management Agency alternative to a Groundwater Sustainability Plan in now available for review and comment on the State Department of Water Resources website http://sgma.water.ca.gov/
Comments must be submitted to the state online using the SGMA Portal within 60 days of the date the alternative was submitted.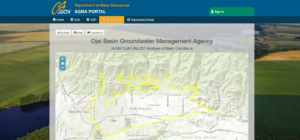 Free Horse and Livestock Services Available
The Ventura County Resource Conservation District (VCRCD) has been awarded grant funds to assist horse and intensive livestock facility owners/operators in meeting water quality regulations approaching the Ventura River Watershed in 2018.
Horse and Livestock owners/operators are invited to take advantage of VCRCD's FREE services: property visits, site-specific nutrient management plan development, and cost-share opportunities for Best Management Practices (BMP) installation. Please contact Lexi Everhart at: (805) 764-5135 or lexieverhart.vcrcd@gmail.com for more information.

The next Horse and Livestock Watershed Alliance (HLWA) meeting is scheduled for Wednesday, February 8, 2017 in Kent Hall at the Help of Ojai, 111 W Santa Ana St, Ojai, CA, 93023 from 5:30-7:30pm. The agenda will cover local water quality issues, anticipated regulations, BMP education, and VCRCD's services.
Sincerely,
Zoë Carlson
Ventura River Watershed Coordinator
VenturaWatershed@gmail.com
805/308-8512
www.venturawatershed.org