Council Meeting Highlights
Bruce Kuebler's report, Understanding More About Surface and Groundwater in the Upper Ventura River Basin Between Meiners Oaks and Oak View is now available in the Ventura River Watershed Council Documents Library on our Website.
The California Department of Fish and Wildlife (CDFW), in response to recent stakeholder comments received on the draft Instream Flow Study Plan, established seventeen new transects in the mainstem Ventura River. Interested stakeholders are invited to join CDFW on a site visit to view and discuss the newly established transects:
          Thursday, May 18th 1:30-4:30 pm
Ojai Valley Land Conservancy Confluence Preserve
CDFW staff will discuss sites selected, as well as discuss any comments or questions regarding the instream flow analysis methods selected. You can find more information about the study and site visit, including detailed parking instructions here.
Free Graywater and Rain Water Catchment Workshop May 13th
Casitas Municipal Water District is offering a Free Graywater and Rain Water Catchment Workshop:
Saturday, May 13, 2017 9am-12pm
Oak View Park and Resource Center, 555 Mahoney Ave, in Oak View.
Come to learn about what it takes to install a Laundry to Landscape Graywater System including a display model, code requirements, design tips and techniques, avoiding pitfalls and more! You can also enter into a raffle to win a free rain barrel!
Space is limited so please RSVP to Bryan Sandoval at bsandoval@casitaswater.com or 805.649.2251×105
Invasive Species Spreading in the Watershed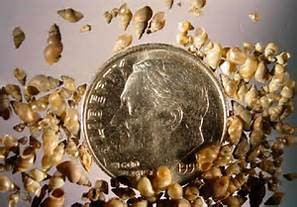 The New Zealand mudsnail, Potamopyrgus antipodarum, are tiny aquatic snails.
These snails can dominate and out compete native aquatic insects that are important to fisheries. You can find out more about the New Zealand mudsnail on the California Department of Fish and Wildlife Invasive Species Fact Sheet. Below is a map of the current known distribution of these snails in the Ventura River Watershed.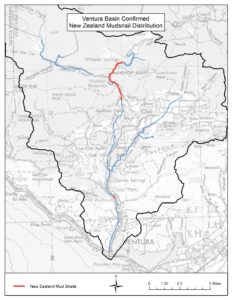 For more information about what you can do to stop the spread of these invasive snails please review the Aquatic Invasive Species Disinfection/Decontamination Protocols.
Climate Ready Funding –  Applications Due June 30th
The Coastal Conservancy announces the availability of technical assistance to help vulnerable communities develop Climate Ready Projects. The Climate Ready Program seeks to encourage local governments and non-governmental organizations to take steps to prepare for a changing climate by advancing planning and implementation of on-the-ground actions that reduce greenhouse gas emissions and/or lessen the impacts of climate change on California's coastal communities and natural resources. The announcement and FAQ are posted on the Conservancy's website
May 20th – Daniel Swain Climate Talk
Join a conversation focusing on the geographical and oceanic nuances that give California its unique climate, along with thoughts on why recent events may offer a preview of California's climate future.
For more information, see the flyer.
Change in a Land of Extremes
What we know (and don't know) about California's climate future
May 20, 3-5pm
Krotona Hall, 2 Krotona St, Ojai
Daniel Swain is a climate scientist in UCLA's Institute of the Environment and Sustainability, where he studies the physics, dynamics, and impacts of the Earth's warming atmosphere. A lifelong Californian, he holds a bachelor's degree in Atmospheric Science from UC Davis and a PhD in Earth System Science from Stanford University. Daniel also authors the California Weather Blog at weatherwest.com, providing in-depth discussions on California weather and climate-related topics in real time.
Upper Ventura River GSA Meeting May 11th
The next Upper Ventura River Groundwater Sustainability Agency (UVRGSA) meeting will be held this Thursday May 11th at 1pm at the Ojai Valley Land Conservancy office, 370 Baldwin Rd, Ojai CA.
You can find the full meeting agenda here.
Nominations for Fisheries Restoration Grant Program
The California Department of Fish and Wildlife (CDFW) Fisheries Restoration Grant Program (FRGP) is currently seeking nominations from the public to fill three vacancies on the FRGP Peer Review Committee for the timber industry, agricultural industry, and academic or research positions. This is a great opportunity to get individuals who are knowledgeable about the Ventura River Watershed involved.
Nominations are due May 31, 2017. To nominate a representative for one of the three positions, please send a nomination letter to:
Patty Forbes, FRGP Coordinator
Wildlife Fisheries Division – Watershed Restoration Grants Branch
1416 9th Street, Room 1266
Sacramento, CA 95814
FRGP@wildlife.ca.gov
Nomination letters must include the candidate's resume and verification that they represent coastal or Central Valley counties in which salmon and steelhead exist. For more information about the FRGP visit https://www.wildlife.ca.gov/Grants/FRGP