There are a lot of great events coming up in our watershed including our next council meeting, a state meeting discussing water rights, annual California Coastal Cleanup Day and Water Take 1 Kick-Off events.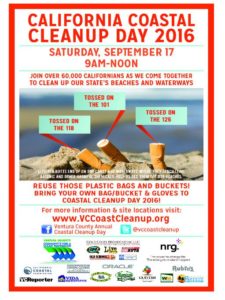 The 32nd Annual California Coastal Cleanup Day is This Saturday, September 17th!
Be one of the 60,000 people across all of California in the upcoming 32nd Annual California Coastal Cleanup Day, on September 17!
Volunteer to remove debris from beaches, creeks, rivers, and lakes all around California to protect wildlife from harm while taking care of our environment.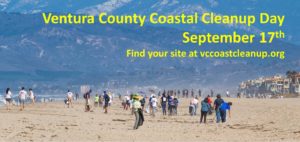 Thursday September 15th – Cannabis Cultivation & Water Rights Workshop
The State Water Resources Control Board (State Water Board), in consultation with the California Department of Fish and Wildlife, is required to adopt principles and guidelines for the diversion and use of water for cannabis cultivation. These principles and guidelines will be incorporated into agricultural permits issued by the California Department of Food and Agriculture under its commercial cannabis program.
State Water Resources Control Board
Cannabis Cultivation & Water Rights Information Meetings
September 15, 2016
4pm to 6pm
Wyndham Garden Ventura Pierpont Inn
550 Sanjon Road Ventura, CA 93001
PURPOSE OF MEETINGS:
To provide information on the following:
• State Water Board's responsibilities with respect to cannabis cultivation.
• State Water Board's process and timeline for developing interim principles and guidelines for the diversion and use of water for commercial cannabis cultivation.
• How interested parties can provide comments and recommendations.
AGENDA:
• State Water Board Presentation
• General Questions and Answers
• Brief Overviews by Attending Partner Agencies
• Breakout Session/Information from Other Agencies
Find more information about the meeting here
Matilija Dam Ecosystem Restoration Focused Watershed Council Meeting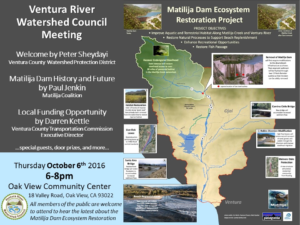 There has been a lot of work on the Matilija Dam Ecosystem Restoration Project this year. Come to hear the latest information and find out how you can help the project move forward. This will be our annual evening:
Thursday October 6th
6pm to 8pm
the Oak View Community Center
18 Valley Road, Oak View, CA 93022
Members of the general public are encouraged to come and participate, so please spread the word and invite everyone you know.
You're Invited: Water: Take 1 Online Short Film Festival Kick-Off Ceremony
Come to celebrate and learn about water and conservation with this cocktail reception. This event celebrates the launch of the 5th Annual Water: Take 1 Online Short Film Festival, Ventura Water's exciting program focusing attention on the value of water. The event is free and tickets are not required to join the fun, but those interested in attending need to register ahead of time as seating is limited. We hope to see you there!
Wednesday, September 21, 2016 from 6pm – 8pm
Crowne Plaza, Ventura Beach, 450 East Harbor Blvd, Ventura CA. 
To register for your free ticket, click here.
Or you can email Debra Martinez at dmartinez@venturawater.net. She will add your name to the guest list and email back a confirmation for your attendance. If you have questions please email Debra or call (805) 652-4587.
New Maps and Trail Markers for The Ventura River Parkway
An update for those of you using the Ventura River Parkway map as a guide to the trail.  The trail markers are finally installed on the pavement along the length of the trail.  They mark the trail from the estuary to Ojai in 1/10 of a mile increments.  We are excited to see them finally installed!
View the Parkway Map online or pick one up at the following locations:  Patagonia retail store, Ventura Visitors Center, Real Cheap Sports, Open Air Bikes, The Ventura Bike Depot, the City of Ventura Parks & Recreation department, the Ojai Visitors Center and the Mob Shop!
This printing was made possible through sponsorships from Patagonia, The Ventura Visitors Bureau and BioResource Consultants in Ojai.