The Next Watershed Council Meeting will be our Matilija Dam Removal Focused Evening Meeting 
Next Thursday October 6th from 6pm to 8pm at the Oak View Community Center.
Please bring your friends and family to learn the latest about the Matilija Dam removal project.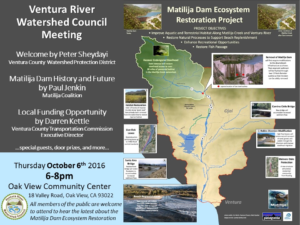 Funding for Environmental Education and Stewardship Projects
The WHALE TAIL® grants program is accepting applications to support projects encouraging people to value and take action to improve the health of California's coast, marine life, or watersheds that connect with the California coast.    Educational projects improving the quality of beaches or coastal or marine habitats are also eligible.  There is also a special subcategory for projects addressing climate change and/or ocean acidification.  Emphasis is on reaching underserved students or members of the public.
Applications mailed to the California Coastal Commission must be postmarked by November 1, 2016.  Nonprofits, schools, and government agencies may apply.  Applicants may request up to $50,000, and 25-50% of the funding will be allocated in small grants up to $12,000.  Click here to access the full application packet.
FREE Landscape Design Workshop This Saturday October 1st
If you missed the first workshop, you can still join the workshop this weekend at Meiners Oaks Elementary School. Register online and get more information here: http://greengardensgroup.com/events/tags/ventura/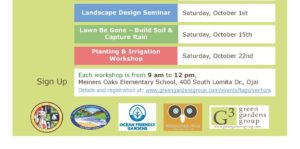 Video Available Online:
Western Ventura County Regional Drought Summit
Thank you Casitas Water for putting on the very successful and well attended Drought Summit last week. If you missed the summit, you can still view it online at www.casitaswater.org