Videos
Videos from the Ventura River Watershed
Greg Gamble, executive director of the Ojai Valley Land Conservancy, explains why land preservation is so crucial to the Ventura River watershed and the OVLC's role in its preservation.
Here is the video of the first flow down the restored Rice Creek route. Actually seeing this was pretty surreal after all the years it took to come to that moment.
Pervious Concrete Flow demonstration at Ventura County Government Center
Captain Ed Kutchna explains the feeding, nesting, breeding & migration habits of the Great Blue Heron. Scene from Eco Touring Lake Casitas with Captain Ed (c)2007 Barrett Productions. More info
http://www.surfandriverreport.com
Ventura County's Matilija Dam and Ventura River in high flow. Shot by Ventura County Watershed Protection District employees in February 1998. That's a lot of water, folks.
Television news coverage of the 1992 floods at Ventura, CA. Part 1 of 2
News coverage of 1992 floods in Ventura, CA.
Casitas Municipal Water District employees check up on the trout living in San Antonio Creek - a tributary of the Ventura River.
Meiners Oaks homeowners document step-by-step the conversion of their landscape into a "rain garden" capable of capturing and retaining the rain falling on their roof and landscape. See how swales, contours, trenches, mulch, and gravel work to hold onto precious...
This film by Brad Meiners was shot on San Antonio Creek during the floods of January 2005.
At Santa Barbara Channelkeeper, we use science, education, advocacy, and the law to protect clean water. We're in the field, keeping watch, and we're not afraid to get our hands dirty! Visit our website for info about how you can...
This video depicts clean-up efforts in the Ventura River and discusses the Ventura River Parkway Plan. For more info visit:
http://www.venturahillsides.org
Eviction Day is a short documentary about the homeless encampments that have been a mainstay along the Ventura River in California for almost a century. Due to environmental degradation, public outcry, and municipal responsibility, the encampments are in the process...
Visit with the old-timers at Phil's Barber Shop as they reminisce about the "good old days" when the Ventura River ran free. Eden Productions Director/Editor: Robin Chilton Matilija Coalition: Paul Jenkin
A field biologist describes the benefits of a local arundo (giant reed) removal project on the Ventura River as equipment operators remove arundo.
Robert Wilkinson, Professor of Environmental Science & Management at University of California, Santa Barabara, and Lisa Stratton, Director of Ecosystem Management at the Cheadle Center for Biodiversity and Ecological Restoration, discuss how green infrastructure can help address water supply issues,...
This month's Sustainable Ventura TV show brought to you by Ventura Water showcases Sprinkler Spruce Up. Jeremy Scarlett with Scarlett's Landscape talks about how to make your lawn and garden irrigation system more efficient. Aquaflo's Dave Williams takes the mystery...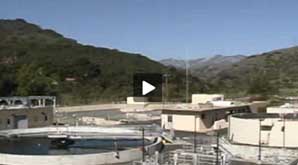 Ojai Valley Sanitation District, About the Facility
A video tour of the Ojai Valley Sanitary District's wastewater treatment facility.

Surfers' Point - Managed Shoreline Retreat - time-lapses
The Ventura Chapter of Surfrider Foundation funded a time-lapse project in September 2010 to document a managed shoreline retreat project at Surfers' Point in Ventura, California. The beach retreat was an alternative to a much more destructive seawall.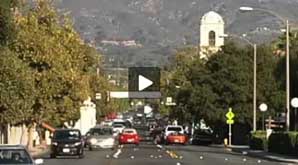 Ojai Valley Sanitation District, Beneath the Streets
This video offers an overview of the Ojai Valley Sanitary District's activities— it's a grand tour of the District's waste water system facilities and personnel.

Southern California Steelhead: Against All Odds
A Cal Trout-produced documentary on the endangered southern California steelhead. Once numbering in the tens of thousands, these resilient fish are now on the brink of extinction. Included are lots of nice shots from local streams including Matilija Creek and Ventura River.