May 4th Council Meeting
The next meeting of the Watershed Council will be Thursday, May 4th from 11am to 1:30pm, at the Bell Arts Factory in Ventura. Please feel free to bring your lunch to the meeting. We have a full agenda with presentations on current studies and a discussion of priority projects for funding in the watershed.
Here is the agenda
Preliminary Call for Projects Prop 1 IRWM Funding
Proposition 1 included $98 Million for Integrated Regional Water Management (IRWM) for the Los Angeles-Ventura Funding Area. The first round of solicitations for implementation funding is anticipated in Spring 2018. Proposed projects in the Ventura River Watershed need to be reviewed and recommended for funding by the Ventura River Watershed Council prior to being submitted to the Watersheds Coalition of Ventura County (WCVC).
If you have a project that will be ready for implementation by Spring 2018 that you would like to submit for funding please email VenturaWatershed@gmail.com by 10am on Monday May 1st.
Matilija Coalition Receives Earth Day Award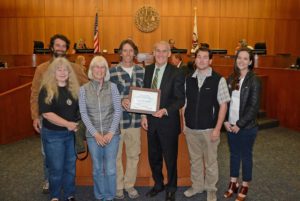 The Ventura County Board of Supervisors recognized the Matilija Coalition for "Excellence in Environmental Stewardship" on April 18th.
The Matilija Coalition is an alliance of community groups businesses, and individuals committed to environmental restoration of the Ventura River Watershed.
Read more here.
Nominations for Fisheries Restoration Grant Program
The California Department of Fish and Wildlife (CDFW) Fisheries Restoration Grant Program (FRGP) is currently seeking nominations from the public to fill three vacancies on the FRGP Peer Review Committee for the timber industry, agricultural industry, and academic or research positions. This is a great opportunity to get individuals who are knowledgeable about the Ventura River Watershed involved.
Nominations are due May 31, 2017. To nominate a representative for one of the three positions, please send a nomination letter to:
Patty Forbes, FRGP Coordinator
Wildlife Fisheries Division – Watershed Restoration Grants Branch
1416 9th Street, Room 1266
Sacramento, CA 95814
FRGP@wildlife.ca.gov
Nomination letters must include the candidate's resume and verification that they represent coastal or Central Valley counties in which salmon and steelhead exist. For more information about the FRGP visit https://www.wildlife.ca.gov/Grants/FRGP