Council Meeting Follow Up
We had a great Ventura River Watershed Council Meeting on Thursday, September 14th. This newsletter provides some key updates that were discussed at the meeting including some important events and announcements. As discussed in the last several meetings, I will be transitioning out of my role as Watershed Coordinator. Casitas Water is now currently accepting applications for the new Watershed Coordinator. Please pass the below Job Opportunity Announcement along to anyone that may be interested. Please save the date for our next Council meeting on
Thursday November 2, 2017 at 9am.
Job Opportunity: Ventura River Watershed Coordinator
The Ventura River Watershed Coordinator will be responsible for the coordination of local watershed management planning and project implementation to achieve the goals, for watershed planning, coordination, and implementation from local stakeholders in the watershed.  This will include grant writing and fundraising efforts, scheduling, planning and facilitation of meetings.  The position is responsible for maintaining the website and developing newsletters and will coordinate with the Integrated Regional Water Management planning process and the Watersheds Coalition of Ventura County and will represent the Ventura River Watershed stakeholders at various meetings. The Watershed Coordinator will also assist with Casitas' implementation of conservation programs such as turf  removal, water waste enforcement, conservation audits, rebate programs, data analysis and outreach activities.
Desired Qualifications:
Ability to effectively coordinate and manage complex multi-organizational projects
Training and/or experience in organizational development, communications, consensus building, facilitation, and leadership skills
Excellent writing, presentation, and public relations skills
Working knowledge of watershed issues, and watershed management
Ability to work independently, establish work priorities, and manage time effectively
Proficiency in MS Word, Excel, and ability to learn new computer applications and maintain a website
Valid driver's license and reliable personal transportation
Bachelors degree in environmental science, water resources, planning, or a related natural resource management field or four years of relevant work experience that includes water resources, watershed management, or community organizing
For more information about how to apply including a
detailed job description
please visit
www.Casitaswater.org.
Free Water Wise Landscaping Workshop, September 30, 2017
The Ojai Valley Green Coalition is hosting a Free workshop at Oak View Park and Resource Center.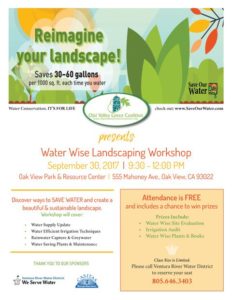 Please see the attached
flyer
for more details.
Upper Ventura River GSA Stakeholder Workshop October 12, 2017
The Upper Ventura River Groundwater Sustainability Agency (UVRGSA) will hold a public workshop on Thursday October 12, 2017 at 6:00pm at teh Oak View Community Center, 18 Valley Road in Oak View. This will be an opportunity for members of the public to ask questions and get engaged in the groundwater management in the Upper Ventura River Basin. Topics will include:
Who manages Groundwater in the Upper Ventura River
Sustainable Groundwater Management Act
UVRGSA Organization
The Groundwater Sustainability Plan and Grant
How Stakeholders can get involved
For more information about the Upper Ventura River Groundwater Sustainability Agency including upcoming meetings, visit the
UVRGSA website
.
Ventura County SGMA Forum: Countdown To Sustainability, November 15, 2017
The Farm Bureau of Ventura County, the Watersheds Coalition of Ventura County (WCVC) and the Ventura County Watershed Protection District are pleased to announce a special forum focused on implementation of activities related to the Sustainable Groundwater Management Act (SGMA) across the County.  This free forum will be held on
Wednesday, November 15, 2017 from 8:30 to 11:30 a.m. at the Courtyard by Marriott in Oxnard
.  Please mark your calendars. Topics will include:
Status of Groundwater Sustainability Agency formation across Ventura County.
Report on current groundwater conditions.
Tools for groundwater pumpers.
Statewide overview of SGMA activities from California's Department of Water Resources.
Discussion of local water supply issues.
Opportunities for coordination and collaboration.
Please see the attached
flyer
for more details and how to register.