Upper Ventura River Basin Groundwater Sustainability Agency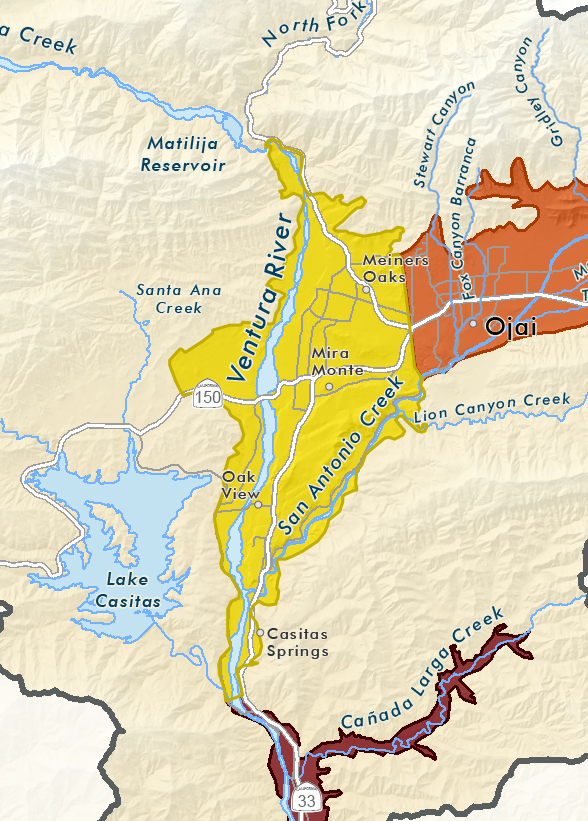 The Upper Ventura River Basin, shown in yellow on the adjacent map, lies under and adjacent to the Ventura River between Casitas Springs and Matilija Canyon.
The Upper Ventura River Basin is a crucial source of municipal and agricultural water. It supplies the greatest volume of groundwater in the watershed, even though its water holding capacity at any one time is not the largest.
Water from the basin is used by nearby growers; by residents and businesses in the communities of Oak View, Mira Monte, Meiners Oaks, Casitas Springs, and a portion of the City of Ventura; and by native habitats and the animals they support.
The process to form a Groundwater Sustainability Agency (GSA) for the Upper Ventura River Basin has been initiated by a collaboration of five agencies: Ventura River Water District, Meiners Oaks Water District, City of Ventura, Casitas Municipal Water District, and Ventura County Watershed Protection District.
GSA Formation Status
MOU. A Memorandum of Understanding (MOU) to provide the framework for establishing the GSA is expected to be approved by all agencies by early May. The MOU provides for equal sharing of start-up costs, primarily for legal counsel costs. Other key components of the MOU include:
Preparation of governance and representation structures;
Assignment of roles and responsibilities;
Preparation of bylaws;
Establish stakeholder process; and
Publication of notices.
Legal Counsel. The law firm of Brownstein, Hyatt, Farber, and Schreck (BHFS) has been selected as legal counsel. The Ventura River Water District will enter into a contract with BHFS on behalf of the group of five agencies after the MOU has been approved by all agencies.
Stakeholder Meeting. Stakeholder outreach was initiated with a well-attended public meeting held on April 23, 2015. The meeting provided an opportunity for the public to discuss ideas and voice comments or concerns about the formation of the agency.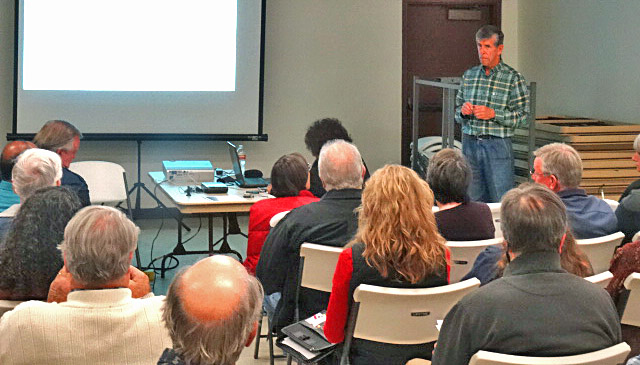 Next. The five collaborating agencies will work with their legal counsel to craft some options for the structure of the organization. These options will then be presented to stakeholders at future public meetings. Depending upon how easy it is to come to agreement, the GSA could be formed as early as mid 2016.
If you have questions regarding the new agency, or would like to be on an e-mail distribution list for future updates, call or e-mail Bert Rapp, general manager, Ventura River Water District at 805/646-3403, Bert@VenturaRiverWD.com.